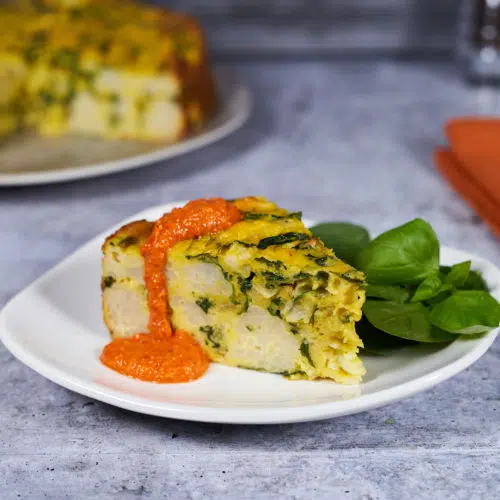 Cauliflower Spinach Cake
This cauliflower and spinach cake makes a light and delicious meal—particularly when topped with an easy romesco (red pepper) sauce.
Ingredients
1 (5-ounce)

package

Fresh Express® Spinach & Arugula

1

small cauliflower

outer leaves removed, broken into 1-1/2- inch florets (about 4 cups)

1

medium yellow onion

peeled, coarsely chopped

2

tablespoons

olive oil

7

eggs

beaten

1/2

cup

basil leaves

chopped

1

cup

flour

1-1/2

teaspoons

baking powder

1/2

teaspoon

ground turmeric

1

package

Parmesan cheese

shredded

1

teaspoon

salt

1/2

teaspoon

black pepper
Easy Romesco Sauce (Makes 2 cups):
1

jar

roasted red peppers

(16-ounce) drained

1/2

cup

slivered almonds, toasted

1/4

cup

oil-packed sun-dried tomatoes

2

garlic cloves

peeled and chopped

1

tablespoon

red wine vinegar

1

teaspoon

smoked paprika

1/2

teaspoon

salt

1/4

teaspoon

black pepper

1/2

cup

olive oil
Instructions
Heat oven to 400°F. Coat the side and bottom of a 9-inch springform cake pan with cooking spray. Line with parchment paper; coat the parchment paper with cooking spray.

Cook cauliflower in a vegetable steamer for 10 minutes or until florets are softened; set aside.

Cook onion in olive oil in a large skillet over medium heat for 5 minutes or until softened. Add the Fresh Express® Spinach & Arugula; cook for 1 minute or until wilted. Transfer to a large bowl; cool slightly.

Add the eggs and basil to the onion mixture; stir until well blended. Add the flour, baking powder, turmeric, Parmesan cheese, salt and pepper; stir until well blended. Add the cauliflower; mix gently as not to break up the florets.

Transfer the cauliflower mixture into the prepared pan, spreading it evenly. Bake for 45 minutes, until the top is golden brown and a knife inserted into the center comes out clean. Cool on a rack for at least 20 minutes before serving. Serve warm topped with romesco sauce.
Easy Romesco Sauce Instructions:
Place all ingredients, except olive oil, into a blender; process until combined. Gradually add the olive oil while running the blender; process until smooth.

Serve immediately. Refrigerate leftovers for up to 7 days.
Notes
Tip: If you don't have a vegetable steamer, cook the cauliflower in water in a saucepan for 15 minutes, until florets are soft; drain.