Celebrate The Holidays With Fresh Express
Get some great recipe ideas and join in the holiday fun with Claire, Edith, and Nicole as they show us how they create some of their favorite holiday salads with Fresh Express.
Holiday Persimmon Salad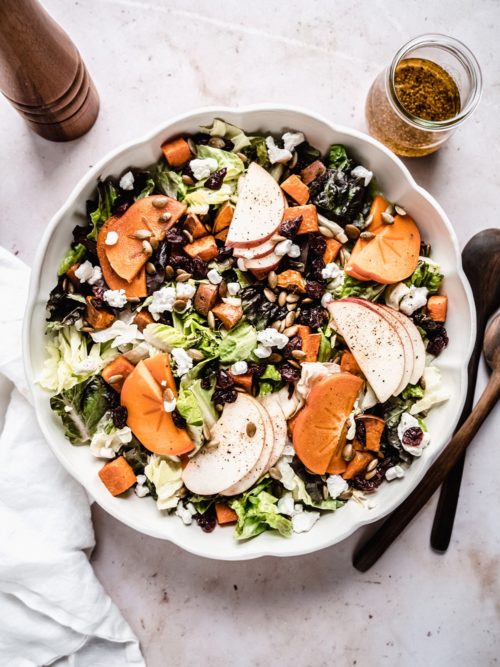 Try this delicious Holiday Persimmon Salad created for us by Nicole Triebe. Featuring sweet and tender textures from Fresh Express® Sweet Butter with added sweet potato, dried cranberries, goats cheese, apples and persimmons, it's bursting with delicious winter flavors.

INGREDIENTS:
1 package Fresh Express® Sweet Butter
2 persimmons, sliced
1/2 cup roasted sweet potato
4 ounces crumbled goat cheese
1/4 cup dried cranberries
2 tablespoons pepitas
1 pink lady apple, sliced thin
1 tablespoon whole grain dijon mustard
2 tablespoons maple syrup
1/4 cup extra virgin olive oil
2 tablespoons apple cider vinegar
1/2 tsp salt
1/4 tsp freshly ground black pepper

INSTRUCTIONS:
Cut sweet potato into 1/2′′ pieces and roast at 400 for 20 minutes. Remove from oven and let cool slightly.

Make dressing by whisking together ingredients in a small bowl.

Toss greens, goat cheese, pepitas, and cranberries in a large serving bowl. Place sliced apples and persimmons on top. Drizzle with dressing and serve.
Pomegranate Citrus Holiday Salad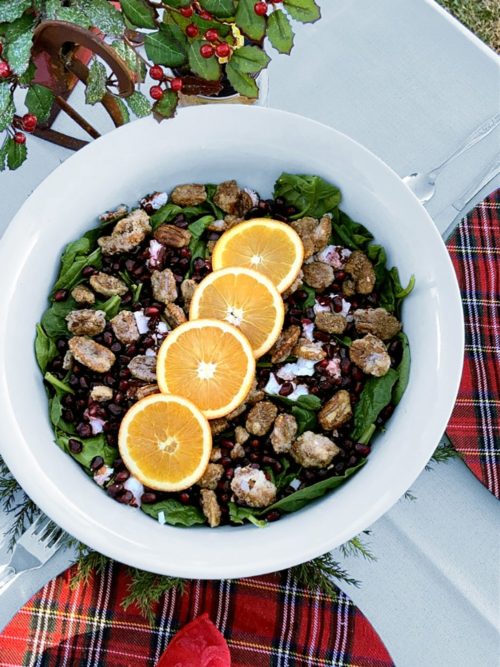 Full of vibrant flavors, this Pomegranate Citrus Holiday Salad by Claire Chewning will delight you during the festive season.

INGREDIENTS:
4 bags Fresh Express® Baby Spinach
2 fresh oranges
Seeds from 1 pomegranate
4 oz. goat cheese
1 c candied pecans, chopped
3/4 c olive oil
1/4 c white balsamic vinegar
3 Tbsp. Pomegranate juice
Pinch of salt

INSTRUCTIONS:
Empty bags of Fresh Express Baby Spinach into a large mixing bowl. Sprinkle pomegranate seeds, crumbled goat cheese, and candied pecans on top.

For the dressing, combine olive oil, vinegar, a pinch of salt, pomegranate juice, and the juice from one fresh orange in a mason jar (or other closed container). Shake vigorously until combined.

When you're ready to serve the salad, pour dressing on top of the salad in your mixing bowl and toss to combine ingredients. Garnish with a few fresh orange slices on top. Serve as a side dish or top with your protein of choice to make it a light meal.
Vegan Caprese Candy Cane Salad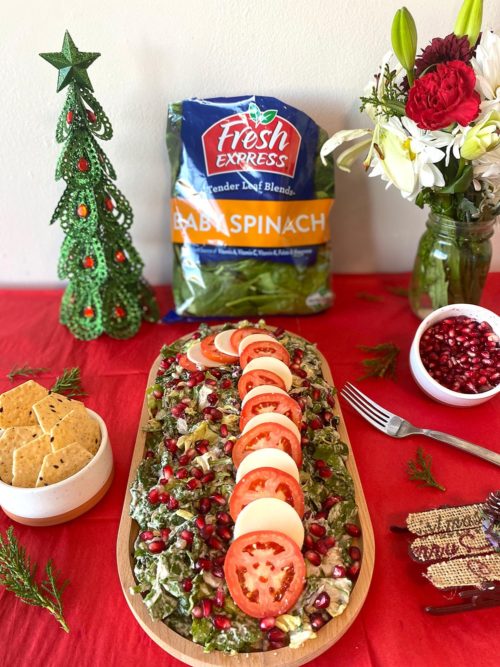 We love this vegan version of our festive Caprese Candy Cane Salad by Edith Agoston.

INGREDIENTS:
2 cups Fresh Express® Baby Spinach
2 cups butter leaf lettuce
1/4 red onion
1/4 of a pomegranate seeds
1 Roma tomato
Vegan mozzarella (just enough to rotate between cheese and tomato slices for the candy cane)

DRESSING INGREDIENTS:
1/2 cup raw sunflower seeds
2 tablespoons Dijon mustard
1-2 cloves of garlic
1 teaspoon sea salt
The juice of one lemon
1/2 cup water
DRESSING INSTRUCTIONS:
Add everything to a small high speed blender and blend until smooth.

INSTRUCTIONS:
Arrange all ingredients but vegan mozzarella and tomato on an oval plate and mix with the dressing.

Start making the festive arrangement by placing one slice of mozzarella cheese and one tomato slice in a row to create a candy cane shape on top of the salad.

Sprinkle with pomegranate arils and serve!
Join the Fresh Rewards Club
Can't get enough of our delicious salads and recipes? Join our Fresh
Rewards Club to receive our e-newsletter, recipe tips, special savings,
an annual birthday treat and so much more. Its FREE to join so sign
up today!