Puff Pastry Tomato Pesto Bites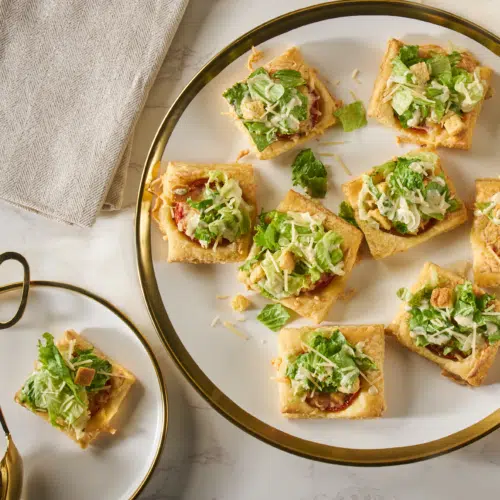 Puff Pastry Tomato Pesto Bites
Flaky pastry topped with tomato, mozzarella cheese and pesto Caesar salad makes a delicious appetizer for any gathering.
Prep Time
15

minutes
mins
Cook Time
20

minutes
mins
Total Time
35

minutes
mins
Course
Appetizer, Breakfast
Instructions
Heat oven to 400°F. Line a sheet pan with parchment paper.

Unfold the thawed pastry sheet on parchment paper; cut along the folds to get three strips. Cut each strip into thirds to make a total of 9 squares. Place them, floured side down, on the lined sheet pan.

Stack two slices of tomato in the center of each square. Using a knife, draw a circle around the tomatoes; just score the dough, don't cut thought it. (This will allow the pastry to puff up around the tomatoes.) Sprinkle tomatoes with the oregano, basil, a pinch of salt, and black pepper. Top with cheese.

Bake for 20 minutes or until the puff pastry is golden brown and cheese has melted. Let cool for 5 minutes.

Place the lettuce from the Fresh Express® Twisted Pesto Caesar Chopped Salad Kit® into a bowl; toss with the salad dressing. Add the toppings; toss to combine.

Top the puff pastry squares with the Pesto Caesar salad.