Sautéed Spinach with Chicken Fried Steak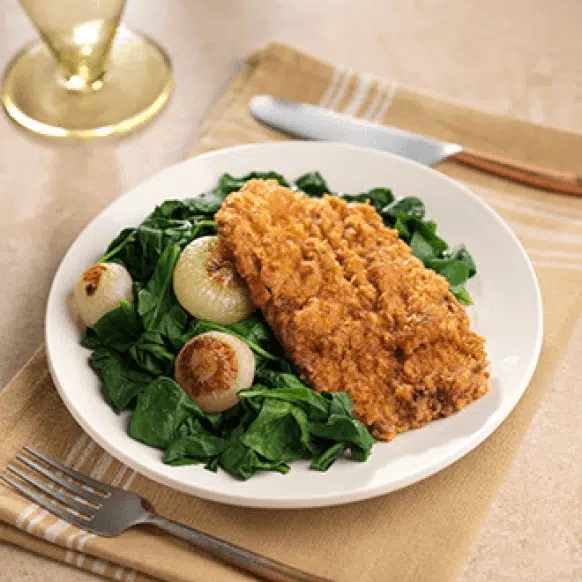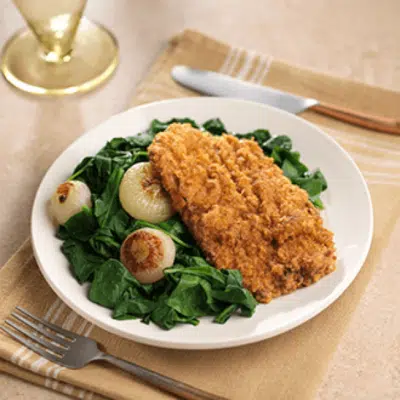 Sautéed Spinach with Chicken Fried Steak
This recipe is a lighter alternative to traditional chicken fried steak, and features scrumptious sautéed spinach.
Cuisine
Bacon / Ham / Steak
Ingredients
4

packages

Fresh Express Spinach

1/2

cup

egg beaters

2

cups

corn flakes

1/2

cup

quinoa flour

1

teaspoon

paprika

1

pound

bottom round

cut into 4 portions

3/4

teaspoon

kosher salt

divided

1/2

teaspoon

black pepper

2

Tablespoons

coconut oil

14

ounces

mushroom stock

(or beef broth)

1

Tablespoon

water

1

Tablespoon

cornstarch

1/4

cup

half and half

10

cipollini onions

peeled
Instructions
Preheat oven to 350 degrees. Coat a baking sheet with cooking spray.

Place egg beaters in a shallow dish. Then, in a plastic bag, add corn flakes, quinoa flour, and paprika and crush until cereal is the same consistency as the flour.

Once the mixture is well incorporated, empty the ingredients in the plastic bag into another shallow dish.

Place steaks into 4 separate plastic bags and pound out until they are 1/4 inch thick. Once they are pounded out, season both sides of the steaks with salt and pepper.

Then, dredge the steaks into the flour mixture, shaking off the excess. Then, dip steak into the egg and then back into the flour mixture so the steaks are completely covered. Continue with all 4 steaks.

Heat 1 Tablespoon of coconut oil in a large non-stick skillet over medium high heat. Add 2 pieces of the steaks and cook until they are browned on both sides, turning once, about 5 minutes total. Transfer the steaks to the baking sheet and repeat with remaining oil and 2 pieces of steak.

When done, transfer remaining steaks to the baking sheet. Also add the onions to the baking sheet and then bake until steaks cooked through, approximately 10-15 minutes, or until desired doneness.Internal temperature should be at least 145 degrees F.

Meanwhile, add the mushroom broth to the pan and boil over medium high heat. Using a wooden spoon, stirring occasionally, scrape off the drippings from the pan. Reduce the stock to about 1 cup, approximately 3-5 minutes.

Whisk water and cornstarch together in a bowl until smooth. Remove the pan from the heat and stir in cornstarch mixture. Return to the heat and cook until thickened. Then, stir in half and half and reduce to a low heat until steaks are done.

For the spinach, spray a non-stick pan with cooking spray and sauté the spinach until fully wilted, approximately 3-5 minutes. Turn on low heat until the steaks are done.

When steaks are done, portion spinach onto 4 different plates, and portion out onions and place on top of the spinach mixture. Then, plate steaks with the spinach and onions and pour gravy over each steak.