Peppercorn-Crusted Ahi Tuna Salad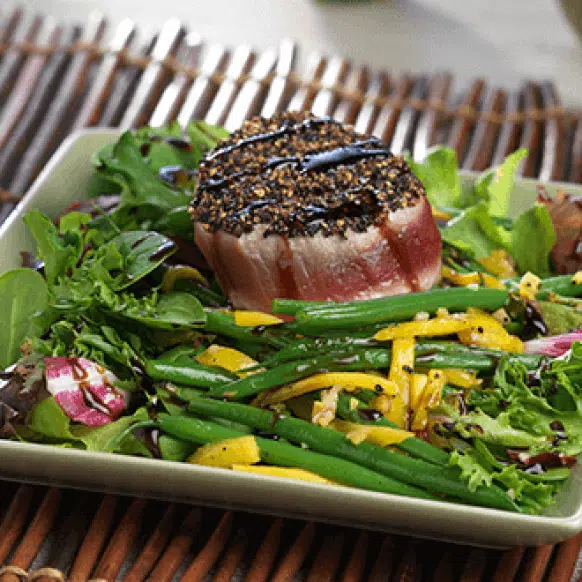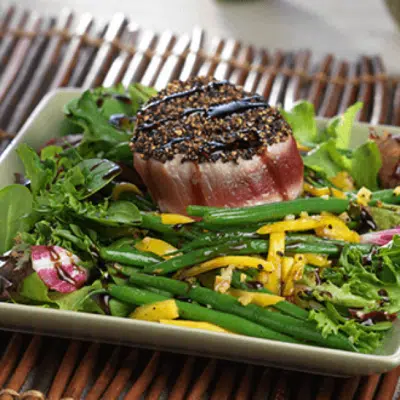 Peppercorn-Crusted Ahi Tuna Salad
Try this lighter salad as a perfect swap for a tradition tuna salad sandwich!
Ingredients
1

Ahi tuna steak

(3 ounce)

1 1/2

Tablespoons

black peppercorn

cracked

1

Tablespoon

extra virgin olive oil

1/2

teaspoon

kosher salt

1

cup

French green beans

(approx. 1/8 pound) halved, trimmed, shocked and blanched

1/4

cup

mango

julienned

1

garlic clove

minced

1

Tablespoon

fresh ginger

minced

Cooking spray
Dressing Ingredients:
2

Tablespoons

store-bought low-cal balsamic reduction
Instructions
In a bowl, combine peppercorn and 1/4 teaspoon of salt.

Generously rub one side of the tuna with the peppercorn mixture.

Spray a grill pan with cooking spray and heat pan. When the pan is very hot, first sear the peppercorn side of the tuna (approximately 2 minutes.). When it is seared, carefully flip the tuna and sear for approximately another 2 minutes.

When tuna is cooked to your desired doneness (internal temperature should be at least 145 degrees F), turn the heat off and set aside.

In a sauté pan, over medium heat, add 1 tablespoon oil. Once the oil is warm, add the garlic and ginger. Cook for approximately 30 seconds and then add the green beans and mango. Season with remaining salt (to taste). Cook for approximately 3 minutes. Turn the heat off.

On a plate, arrange lettuce and then top with green bean sauté. Drizzle 1/2 of the balsamic on the greens and then top with seared tuna. Then, drizzle the remaining reduction onto the tuna.