Lemon Tilapia with Kale Chips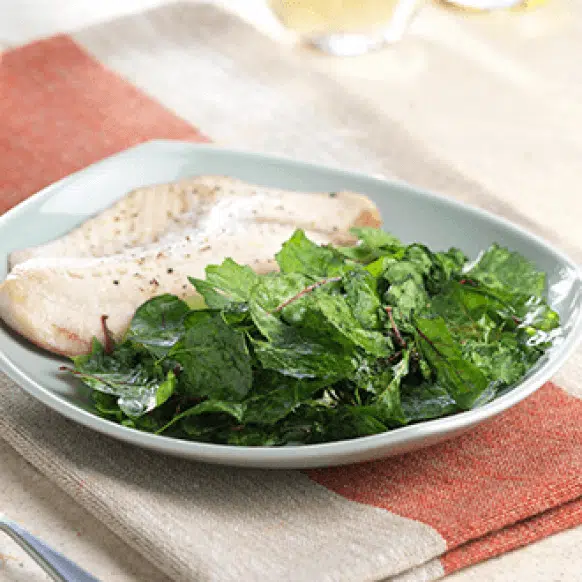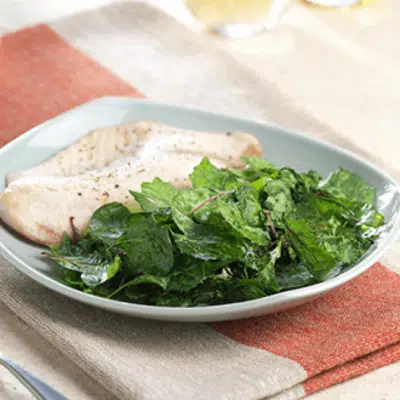 Lemon Tilapia with Kale Chips
Traditional fish and chips takes on a Fresh Express makeover with light lemon tilapia and kale chips instead of fries. 
Ingredients
3

bags

Fresh Express Baby Kale Mix

4

tilapia filets

(4-6 ounces each)

1

lemon

juiced

1

Tablespoon

unsalted butter

melted

3

teaspoons

kosher salt

1

teaspoon

fresh cracked black pepper

3

Tablespoons

brown sugar

1

Tablespoon

extra virgin olive oil
Instructions
Preheat oven to 400 degrees.

Spray baking sheets with non-stick cooking spray and place lettuce in a single layer.

Drizzle lettuce with extra virgin olive oil and evenly sprinkle brown sugar all over. Mix together until ingredients are well incorporated and then cook approximately 6 minutes.

Take the baking sheet out of the oven, and using a rubber spatula or tongs, gently re-toss the lettuce to make sure the sugar and oil is well incorporated and evenly dispersed on the lettuce.

Place the lettuce back in the oven and cook another 10 minutes, or until crispy.

Take out of the oven and season to taste with kosher salt and another pinch of brown sugar.

Reduce oven temperature to 375.

Season each tilapia with 1/2 tsp kosher salt and 1/8 tsp pepper and place on non-stick baking sheet.

Top fillets with lemon juice and butter.

Bake approximately 30 minutes or until fully cooked (internal temperature of 145 degrees F) and serve aside baked kale chips.