Lemon Caesar Salad with Latke Croutons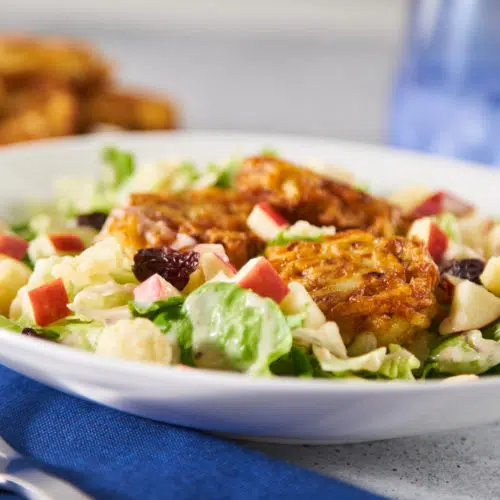 Lemon Caesar Salad with Latke Croutons
The Fresh Express® Twisted Lemon Caesar Chopped Salad Kit® topped with latke croutons makes a special first course salad for Hanukkah or any family gathering.
Prep Time
25

minutes
mins
Cook Time
15

minutes
mins
Total Time
40

minutes
mins
Cuisine
Brunch / Breakfast
Instructions
Grate the potatoes and onions on the large holes of a box grater. Place in a colander set over a bowl. Sprinkle with salt and pepper.

Press the mixture with a wooden spoon to drain out the moisture. Transfer the grated vegetables into a clean dish towel. Roll the towel and then firmly twist the ends, holding the towel over a bowl, to extract the remaining liquid.

Place vegetables into a large bowl; add the eggs and flour; mix well.

Form cakes with a heaping tablespoon of the potato mixture; place on a sheet pan. Repeat to make two dozen cakes.

Fill a large saucepan with 1/4-inch of canola oil. Heat oil over medium heat until sizzling.

Working in batches, cook the latkes for 2 to 3 minutes, turning once, until golden-brown on both sides.

Transfer the latkes to another sheet pan lined with paper towels; keep warm. Continue making latkes, adding more oil as necessary to the pan.

Place the lettuce from the Fresh Express® Twisted Lemon Caesar Chopped Salad Kits® into a large bowl; toss with the salad dressings. Add the toppings; toss to combine.

Divide the salad evenly among eight plates. Top each with three latkes and diced apple.