Grilled Teriyaki Salmon Caesar Salad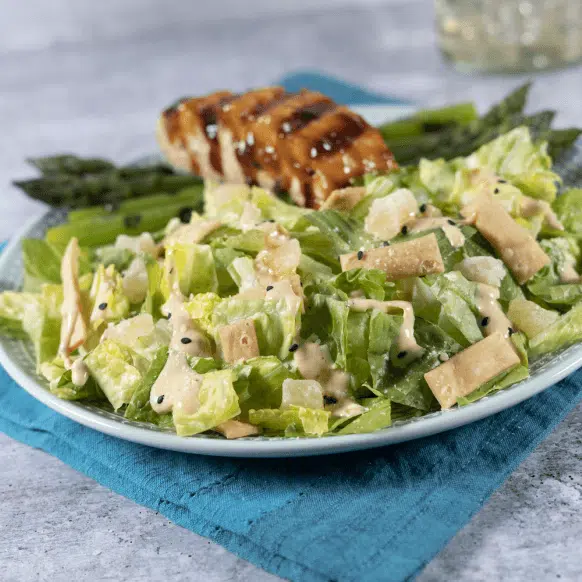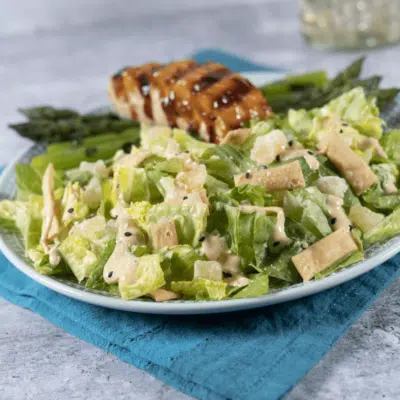 Grilled Teriyaki Salmon Caesar Salad
A Caesar salad with an Asian twist pairs nicely with grilled teriyaki salmon for a backyard dinner.
Ingredients
2

(9.6-ounce) packages

Fresh Express® Twisted Asian Caesar Chopped Salad Kits®

1

cup

reduced-sodium soy sauce

1/2

cup

packed brown sugar

2

tablespoons

rice wine vinegar

2

garlic cloves,

minced

2

teaspoons

minced fresh ginger

1/2

teaspoon

red pepper flakes

3

tablespoons

olive oil,

divided

2

green onions,

chopped

4

(6-ounce)

skinless salmon fillets

2

teaspoons

corn starch

1

pound

asparagus,

trimmed

1

teaspoon

coarse salt
Instructions
Combine soy sauce, brown sugar, vinegar, garlic, ginger, and red pepper flakes in a medium bowl. Place 1/2 cup of the mixture into a small saucepan. Add 2 tablespoons olive oil and onion to the remaining mixture in the bowl. Transfer to a large resealable plastic bag. Add salmon and toss to coat. Refrigerate for one hour, turning the bag once or twice.

Mix 2 teaspoons corn starch with 2 teaspoons water in a small bowl. Add the corn starch to the soy sauce mixture in the saucepan. Cook on medium-high heat for 10 minutes or until the sauce begins to thicken. Remove from heat and set aside.

Heat an indoor or outdoor grill to medium-high; oil the grill grate.

Spread the asparagus on a large plate. Drizzle with remaining olive oil, turning the spears until they are evenly coated. Sprinkle with salt. Place the asparagus on the grill, perpendicular to the grate. Grill for 5 minutes, turning occasionally, or until slightly charred. Remove from grill and set aside.

Oil grill grate again. Remove salmon from marinade and discard marinade. Grill salmon for 4 to 6 minutes a side, or until it flakes easily with a fork.
To Make the Twisted Asian Caesar Chopped Salad Kit®:
Place the lettuce from the Fresh Express® Twisted Asian Caesar Chopped Salad Kits® into a large bowl; toss with salad dressings and toppings.
To Assemble:
Divide the salad and the asparagus evenly among four plates. Top the asparagus with the salmon. Brush the salmon with the reserved teriyaki glaze.