Grilled Italian Sausage, Bacon and Tortellini Caesar Salad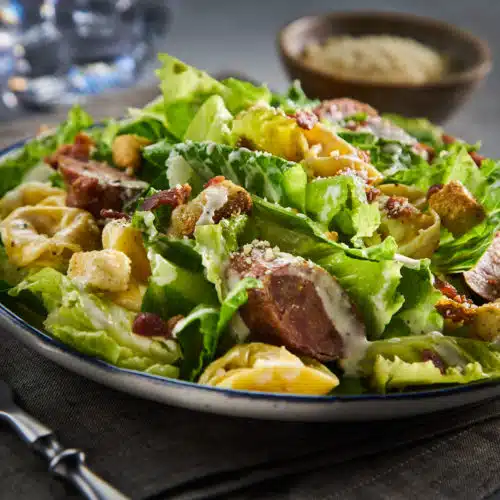 Grilled Italian Sausage, Bacon and Tortellini Caesar Salad
Transform your favorite Caesar salad with grilled sausage and tender tortellini.
Instructions
Heat an indoor or outdoor grill to medium-high; oil the grill gate.

Cook sausages on all sides for 10 minutes, until internal temperature reaches 160°F. Slice and set aside.

Prepare tortellini according to package directions; drain and toss with 1 teaspoon olive oil.

Place the greens from the Fresh Express Bacon Caesar Salad Kits in a large bowl; set aside the toppings. Add the tortellini to the salad; toss with the dressing. Divide the salad among 4 serving plates. Top each salad with the Italian sausage, bacon, and croutons. Sprinkle with cheese.