Chilled Sesame Soba Noodle with Asian Chopped Salad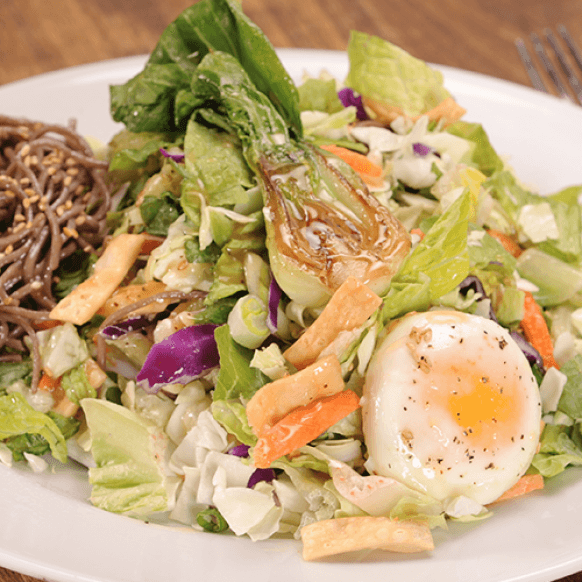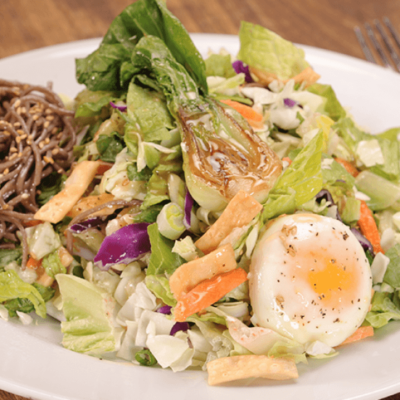 Chilled Sesame Soba Noodle with Asian Chopped Salad
Toss soba noodles, Bok Choy, poached egg and more with our delightful Asian Chopped Salad Kit. 
Ingredients
8

ounces

Soba Noodles

1

Tbsp.

Soy Sauce

1/2

Tbsp.

Sesame Seeds, Black

Toasted

1

Tbsp.

Sesame Oil

3

Eggs

3

Halves Bok Choy

1

Tbsp.

Sesame Oil

Kosher Salt To Taste

Ground Black Pepper

To Taste

1/2

Tbsp.

Vegetable Oil

1

Tbsp.

Scallions, Bias Cut

Maldon Salt To Taste

Ground Black Pepper

To Taste
Instructions
Bring a large pot of salted water to a boil

Add Soba Noodles and cook until al dente, approximately 2 and a half minutes

Transfer Soba Noodles in to a glass mixing bowl, toss with soy sauce, sesame seeds and sesame oil. Reserve the noodles and chill.

In a medium mixing bowl, combine sesame oil, salt, black pepper, and the bok choy.

In a medium sauté pan heat over medium-high heat.

Add vegetable oil and heat until the oil begins to shimmer.

Sear the cut end of the bok choy for 1 ½ minutes or until golden brown. Flip and cook for another minute.

Fill a medium sized sauce pan with 4 inches of water, and a splash of white vinegar. Bring to a light simmer.

Gently crack eggs in the water, allow eggs to cook for 3 to 5 minutes. Until the white is fully cooked.

With a slotted spoon remove the eggs from the water.

Mix Fresh Express Asian Chopped Kit toss with the salad dressing. Plate over a bed of chilled soba noodles. Plate each salad separately.

Top the salad with the bok choy.

Place one poached egg on each salad.

Finish with scallions, maldon salt and fresh cracked pepper.