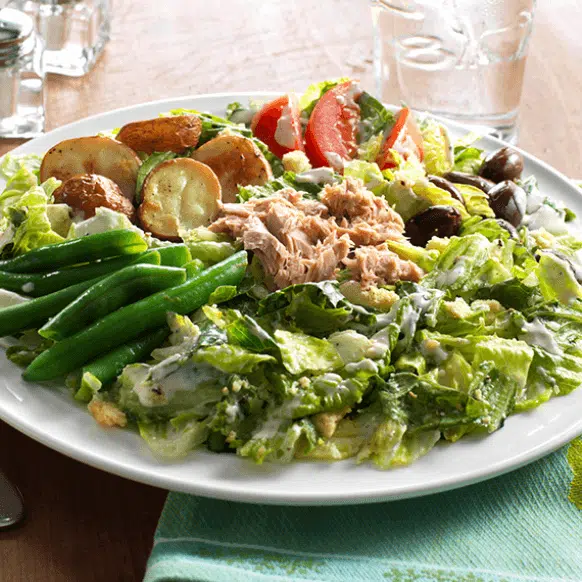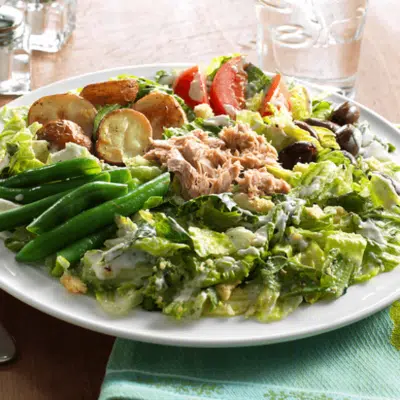 Caesar Niçoise Salad
Combine two classic salads — the Caesar and the French Niçoise — to create a show-stopping entrée.
Ingredients
2

(9.4-ounce) packages

Fresh Express® Caesar Chopped Kits®

8

ounces

small redskin potatoes

cut in half

1

tablespoon

olive oil

plus more for finishing

8

ounces

green beans

trimmed

1

can

tuna fish

(12-ounce) drained

1

large tomato

cut into wedges

4

ounces

pitted Kalamata or Niçoise olives

Salt and pepper
Instructions
Place the potatoes in a large bowl; toss with olive oil and sprinkle generously with salt and pepper.

Place potatoes on a baking sheet; bake for 20 to 25 minutes or until tender and skins are slightly blistered. Cool to room temperature.

Place green beans in a large skillet; add water to cover. Bring to a boil over high heat; cover and cook for three minutes. Remove cover and cook for one minute or until water evaporates and beans are crisp-tender; drain. Season with salt and pepper to taste. Cool to room temperature.

Place the Fresh Express® Caesar Chopped Kits® into a large bowl; toss with the salad dressing. Add the toppings; toss to combine. Arrange the salad on a large oval platter; place the tuna in the center. Arrange the green beans, tomato, and olives in groupings around the tuna. Finish with a little drizzle of olive oil.

Tip: Like anchovies? Add 8 anchovy fillets as another tasting ingredient.