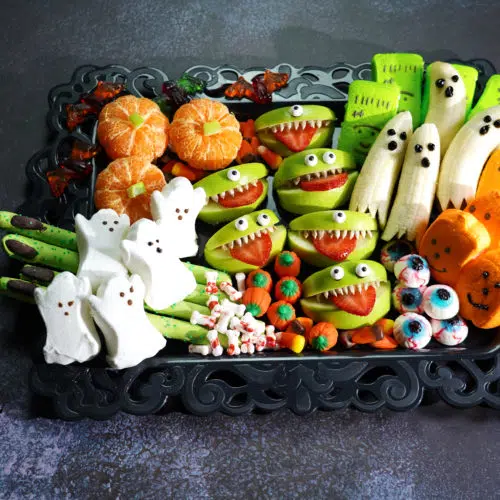 Halloween Charcuterie
Make fun fruit Halloween treats with Chiquita Bites®: Juicy Green Apples, which are sliced and ready to make monsters with.
Prep Time
25

minutes
mins
Total Time
25

minutes
mins
Ingredients
1

(14-ounce) package

Chiquita Bites®: Juicy Green Apples

2

Chiquita bananas,

peeled

3

clementine oranges,

peeled

3

strawberries,

thinly sliced

1/4

cup

peanut butter

1/4

cup

sunflower seeds

Small candy eyeballs

Chocolate icing

Peeps® Marshmallow Monsters, Pumpkins and Ghosts

Mellowcreme® Autumn Mix

Skeleton Bones Hard Candy

Gummi Eyeballs Candy

Vampire Bats Gummi Candy

Pretzel Fingers
Instructions
To make one apple monster, spread a little peanut butter along the cut side of one apple slice; top with a slice of strawberry. Insert sunflower seeds along the skin side edge of another apple slice; place on top of the peanut butter on the apple slice. Add one or two eyeballs, using a little peanut butter as glue. Repeat process for as many monsters as you want to serve.

To make the banana ghosts, cut a banana in half; then slice the bottom to make a jagged edge. Using chocolate icing, pipe eyes and a mouth.

Cut an apple slice to make the clementine orange pumpkin stalk.

Arrange apple monsters, banana ghosts and clementine pumpkins on a platter with various Halloween candies and treats. Make more monsters and ghosts as needed.