Summer Peach & Tomato Salad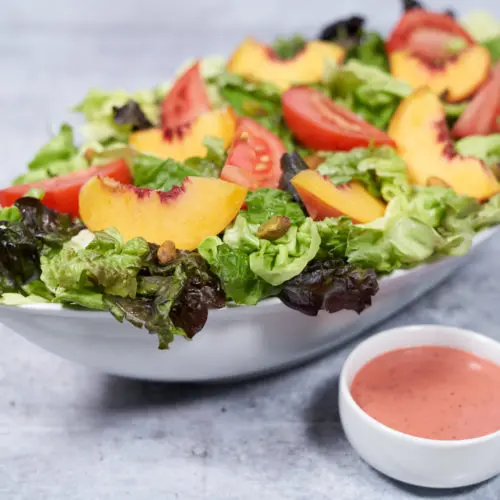 Summer Peach & Tomato Salad
Juicy summer peaches and fresh garden tomatoes on a bed of crisp romaine and butter lettuce tossed with homemade roasted strawberry vinaigrette is a perfect summer salad.
Cuisine
Fruit Salads, Peaches / Plums / Pears / Watermelon
Ingredients
Roasted Strawberry Vinaigrette Ingredients:
3

cups strawberries, cut in half

3

tablespoons white balsamic vinegar

1

tablespoon fresh rosemary leaves

1

teaspoon lime juice

6

tablespoons olive oil

Salt and freshly ground black pepper
Instructions
Roasted Strawberry Vinaigrette Instructions:
Heat oven to 450°F.

Spread strawberries on a parchment paper lined baking sheet. Bake for 15 minutes or until tender. Cool. Place the strawberries, vinegar, rosemary, and lime juice into a blender; process until the berries are puréed. Add the oil; process until smooth. Season with salt and pepper to taste.
Instructions:
Arrange Fresh Express® Sweet Hearts® Lettuce Blend in a large serving bowl. Top with peaches, tomatoes and pistachios. When ready to serve, toss ingredients and drizzle each salad with dressing.