Spring Mix with Grilled Cheese Croutons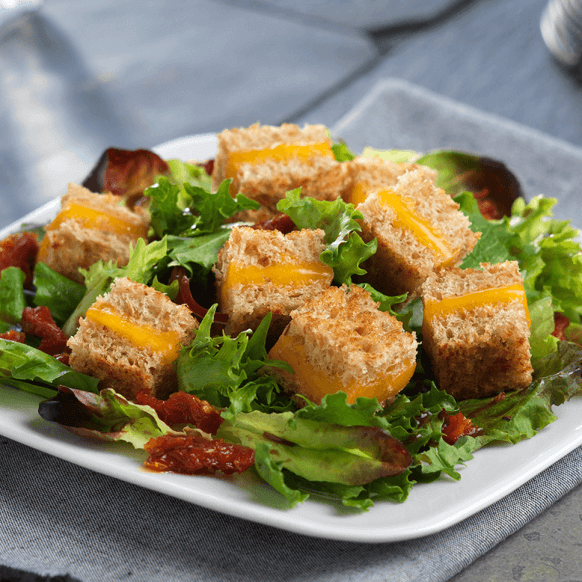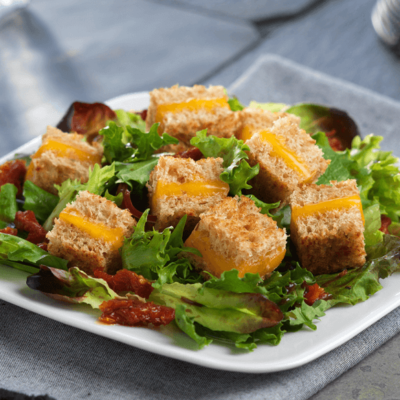 Spring Mix with Grilled Cheese Croutons
Instead of a Grilled Cheese Sandwich try this Balsamic Spring Mix Salad with Sundried Tomatoes and unique Grilled Cheese Croutons!
Ingredients
4

slices

sprouted-whole grain bread

(or whole wheat bread)

4

slices

of reduced-fat cheddar

(4 ounces)

1/2

cup

sun-dried tomatoes packed in extra virgin olive oil

drained and rinsed, sliced

Spray butter
Instructions
Place two slices of cheese on a slice of bread. Top cheese with another slice of bread to form a sandwich. Repeat to form another sandwich.

Spray both outer slices with spray butter.

Heat a non-stick pan over medium heat. When the pan is hot, add sandwich. Cook until golden brown, about 3-5 minutes, and then flip and cook another 3-5 minutes.

When finished, carefully place the grilled cheese on a cutting board and let it rest for approximately 5 minutes.

Carefully cut off the crust. Discard the crust and cut the grilled cheese into large dices (the size of a crouton).

Place greens and sundried tomatoes in a bowl and toss with vinaigrette.

When dressing is fully incorporated, portion into 4 salad bowls. Top each salad with grilled cheese croutons.