Sesame Chicken & Veggie Salad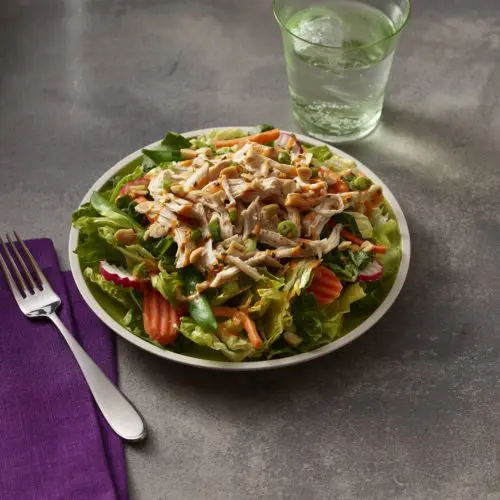 Sesame Chicken & Veggie Salad
Make a satisfying, light meal with this crispy veggie salad topped with chicken and a unique Asian dressing.
Ingredients
Ginger Carrot Dressing:
1/2

cup

carrot juice

5

tablespoons

Greek yogurt

1

tablespoon

fresh ginger,

minced

1

tablespoon

unseasoned rice vinegar

1

tablespoon

sesame oil

1

teaspoon

black sesame seeds
Instructions
Bring 2 cups water to a simmer in a large skillet. Add chicken, cover and cook over low heat for 8 to 10 minutes or until a thermometer inserted into the middle of the chicken reads 165°F. Remove skillet from heat; let stand 5 minutes. Shred chicken with a fork; set aside.

Place the Fresh Express® Veggie Lover's Lettuce Mix® in a large bowl; add chicken and green onions. Drizzle with dressing and toss to coat.

To serve, divide the lettuce among four dinner plates; sprinkle with chopped peanuts.
Dressing Instructions:
To make the dressing, process all ingredients in a blender until smooth.