Minestrone & Prosciutto Salad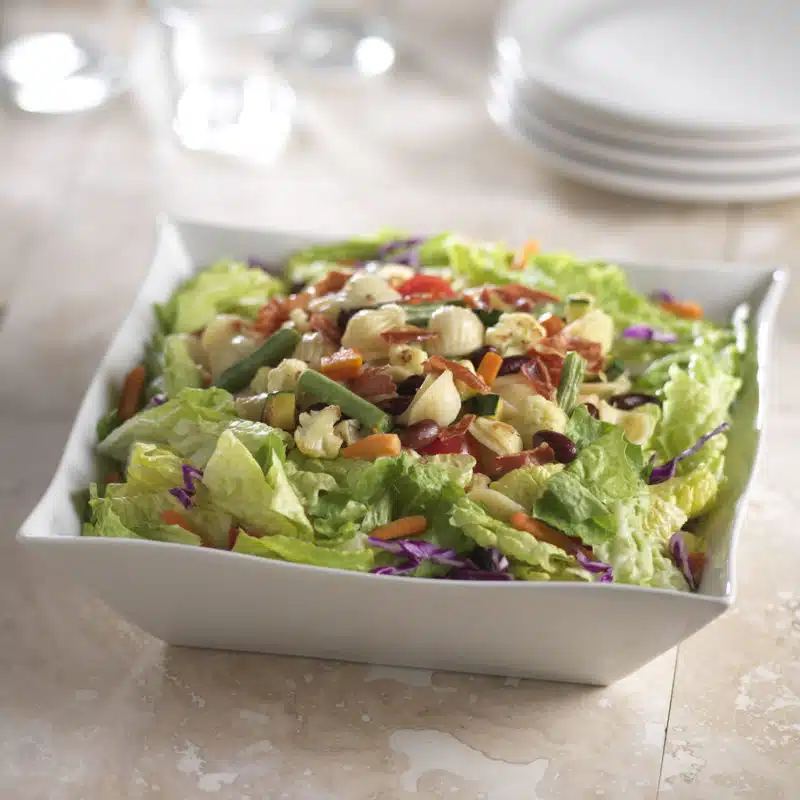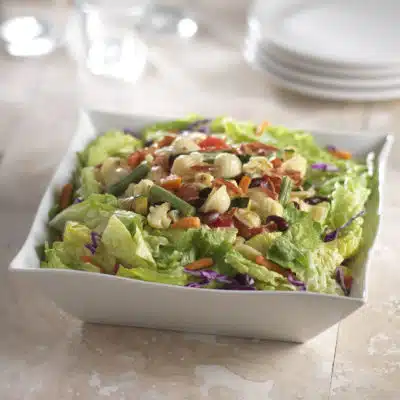 Minestrone & Prosciutto Salad
Pasta, beans and a variety of roasted veggies transform into this soup-inspired salad with a surprise topping of crispy baked prosciutto!
Ingredients
1

teaspoon

coarse salt

plus more for seasoning

8

ounces

orriechetti or Fusilli pasta

4

Tablespoon

extra-virgin olive oil

1

small onion

cut into 1/4-inch dice

2

cloves garlic

minced

2

carrots

peeled and cut into 1/2-inch dice

2

cups

cauliflower florets

cut into 1/2-inch pieces

4

ounces

green beans

cut into 1-inch pieces

1

Zucchini

cut into ½-inch pieces

2

Tablespoon

red wine vinegar

1

pint

cherry tomatoes

cut in half

8

petite basil leaves

1

can

cooked kidney beans,

(15-oz) rinsed and drained

Freshly ground pepper

4

thin slices prosciutto
Instructions
Bring a medium saucepan of water to a boil.

Add a teaspoon of salt to the boiling water.

Add pasta, and cook until al dente, eight to 10 minutes.

Drain and rinse under cold water.

Heat two tablespoons olive oil in a large skillet over medium heat.

Add onion and garlic, and cook for two minutes.

Add carrots and cauliflower, and cook until softened, about three minutes.

Add green beans and zucchini, and cook another three minutes.

Transfer to a medium bowl, and place in the refrigerator for 20 minutes to cool.

Meanwhile, lay the sliced prosciutto on a baking sheet and cook at 350 degrees for eight to 12 minutes, just until crisp.

Remove from the oven and let cool.

Remove the minestrone from the refrigerator, and stir in remaining olive oil, vinegar, tomatoes, basil, beans and pasta.

Season with salt and pepper.

Place Fresh Express Premium Romaine on four plates and top with the chilled minestrone mixture and the crispy prosciutto.