Holiday Wild Rice Squash Poppyseed Chopped Salad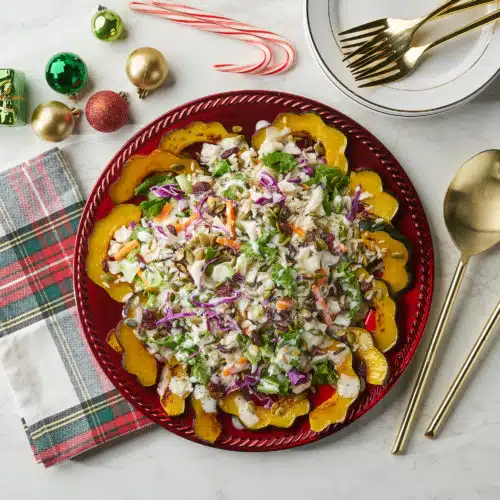 Holiday Wild Rice Squash Poppyseed Chopped Salad
Wild rice blended with the Fresh Express® Poppyseed Chopped Kit® served with roasted maple glazed squash makes a tasty side dish with a festive presentation. Try it as a main dish salad, too.
Instructions
Bring water to a boil in a medium saucepan. Stir in rice; reduce heat to low. Cover and cook for 55 minutes or until rice is tender. Remove from heat; drain. Cool to room temperature.

Meanwhile, heat oven to 350°F. Cut the acorn squash in half, from stem to tip, and remove the seeds. Place the squash cut-side-down and cut into ½-inch-thick slices.

Combine olive oil and salt in a large bowl; add squash, in batches, and toss to coat. Arrange in a single layer on a sheet pan; brush with maple syrup. Bake for 20 minutes or until tender. Cool.

Arrange squash, skin side out, around the perimeter of a 13-inch platter, stacking slices if necessary.

Place the greens from the Fresh Express® Poppyseed Chopped Kit® into a large bowl; toss with the salad dressings. Add the rice and one package of the toppings; toss to combine. Arrange the salad in the center of the platter; sprinkle with the other package of toppings.