Crispy Prosciutto and Poached Egg Breakfast Salad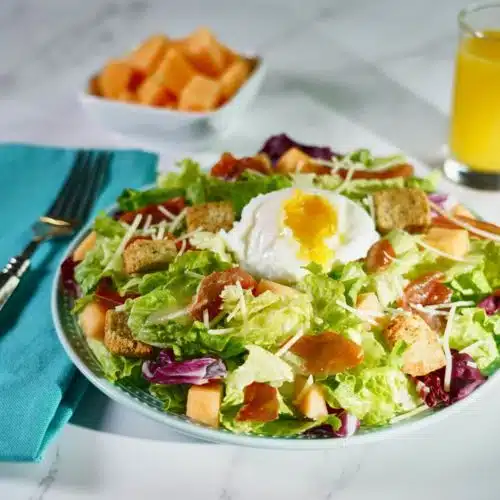 Crispy Prosciutto and Poached Egg Breakfast Salad
Instructions
Place the prosciutto on a parchment lined baking sheet; bake for 10 to 12 minutes or until crisp. Cool; break into small pieces.

Bring a large stockpot of water to a boil. Add vinegar; reduce heat to a simmer. (Bubbles should barely be breaking the surface.) Crack an egg into a small bowl. Bring the bowl close to the water and gently drop the egg into the water. Gently stir around the egg, keeping it moving in a circular motion. Repeat with each egg. Cook for 4 minutes; remove each egg with a slotted spoon and gently place on a paper towel to remove excess water.

Place the Fresh Express® Italian Balsamic Salad Kits® into a large bowl; toss with the salad dressing. Add the toppings; toss to combine. Divide salad evenly among four plates. Top with pouched egg, prosciutto, and cantaloupe.