Chicken, Squash & Lemon Mascarpone Salad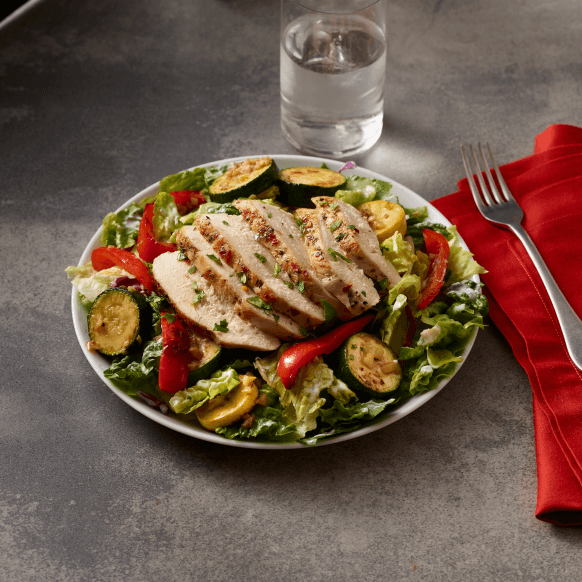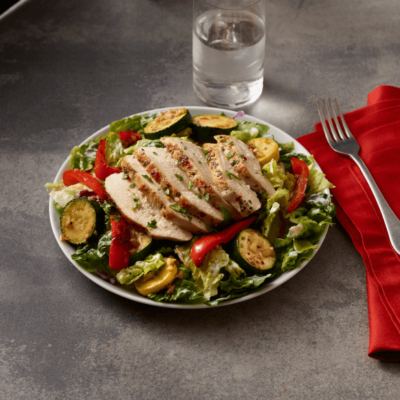 Chicken, Squash & Lemon Mascarpone Salad
Roasted squash is a great addition to any salad. A drizzle of this rich, yummy dressing lifts an already great salad to a whole new level of deliciousness!
Ingredients
4

boneless, skinless chicken breasts

Salt and pepper, to taste

3

tablespoons olive oil

2

lemons, cut in half

4

garlic cloves, smashed

1

zucchini

cut into 1/2-inch coins

1

yellow squash, cut into 1/2-inch coins

1

sweet red pepper, cut into 1/2-inch strips

1

teaspoon dried thyme

1/2

teaspoon crushed red pepper
Dressing Ingredients:
Zest and juice of 2 lemons

3

tablespoons olive oil

1/2

teaspoon salt

1/3

cup Mascarpone cheese

1/4

cup fresh Italian parsley, chopped
Instructions
Rinse chicken and pat dry with paper towels. Season with salt and pepper. Cook chicken in olive oil in a large oven-proof skillet over medium heat until browned, about three minutes a side. Add the lemons, garlic, squash and red pepper to the skillet. Sprinkle chicken with the dried thyme and crushed red pepper. Bake for 15 minutes, or until a thermometer inserted into the middle of the chicken reads 165°F. Let cool at room temperature for 15 minutes. Cut chicken into 1/4-inch thick slices.

Place the Fresh Express® Italian Lettuce Salad Blend in a large bowl; drizzle with dressing and toss to coat. To serve, divide the lettuce among four dinner plates. Top with chicken, squash and red pepper; sprinkle with parsley.
Dressing Instructions:
Whisk the lemon juice, lemon zest, olive oil, and 1/2 teaspoon salt in a small bowl. Add the Mascarpone cheese and 2 tablespoons parsley; whisk until smooth.