Char-Grilled Chicken Asian Chopped Salad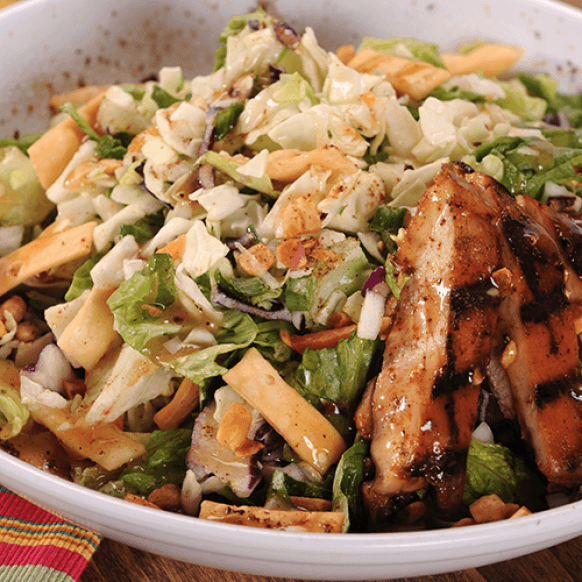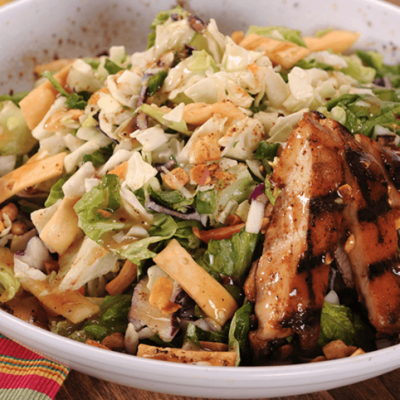 Char-Grilled Chicken Asian Chopped Salad
Marinated chicken along with roasted peanuts and dried porcine mushrooms give this Asian Chopped Salad added flair.
Ingredients
1

tbs.

Gochujang

1

cup

Soy Sauce

3

each

Marinated Chicken Thighs

1/2

tsp.

Chinese Five Spice

1/4

cup

Peanuts, Shelled, Crumbled

1

tsp.

Dried Porcine Mushrooms

Crumbled
Instructions
In a small mixing bowl combine gochujang and soy sauce and whisk together until well incorporated.

Place chicken in marinade, and allow to marinate for at least 30 minutes. For added flavor marinate chicken overnight in a refrigerator.

In a small mixing bowl toss crumbled peanuts and Chinese five spice together.

In a small sauté pan set to medium heat. Roast peanuts until fragrant, about 5 minutes. Be sure to continuously stir or toss nuts in the pan to prevent burning and allow for them to toast evenly.

Pre-heat grill to medium high heat.

Remove chicken for marinade.

Place chicken on grill, place the side that would have had the skin on down first.

Grill for 3-4 minutes on the first side. Rotate chicken 45 degrees either way and cook for another 2 minutes. This we achieve cross hatch grill marks.

Flip chicken and follow the same procedure.

For large thighs, finish cooking the chicken in the oven until the internal cooking temperature reaches 165°F.

Remove from cooked chicken and store under refrigeration until your ready to plate the salad.

Combine roasted peanuts and Fresh Express Asian Chopped Kit in a medium mixing bowl.

Mix the master pack ingredients and the included salad dress and toss the salad.

Slice the chicken thighs and fan them over each salad.

Dust the top of each salad with the dried porcini mushrooms.