Apple Orange Thanksgiving Salad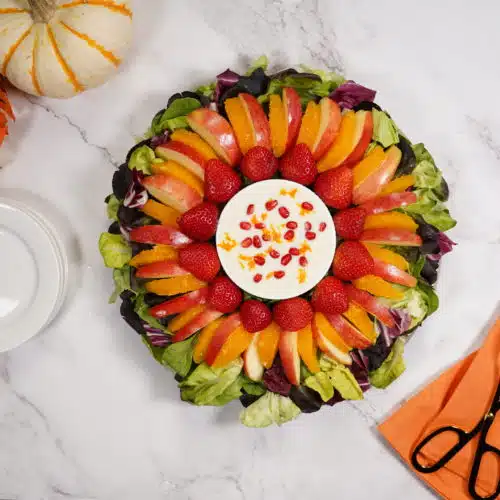 Apple Orange Thanksgiving Salad
Crisp Chiquita Bites® Red Apple Slices paired with juicy oranges bring the flavors of Fall to your kitchen. Layer on a bed of Fresh Express Butter Supreme® salad blend and drizzle with a creamy strawberry yogurt dressing, then serve as a side dish for your holiday dinner or as a treat for a healthy snack.  Either way, it's a delicious treat!
Instructions
Layer Fresh Express® Butter Supreme on the bottom of a serving dish

Slice oranges into wedges and remove the tops from strawberries.

Layer in an alternating pattern side by side the oranges and apple slices leaning on each other to create a circle around the middle of the dish.

Place strawberries on the back of the apples and oranges towards the middle of the dish, with the tips facing outwards.

Drizzle with dressing and serve.
Dressing Instructions:
In a blender add in vinegar, ½ pound of strawberries with tops removed, orange juice, honey, and salt.

Blend on low until the puree has formed and then slowly stream in oil until it reaches the consistency of a vinaigrette.

Transfer to a mixing bowl and whisk in yogurt until incorporated.

Garnish with pomegranate seeds and orange citrus zest.