the technological transformation of the value added salad industry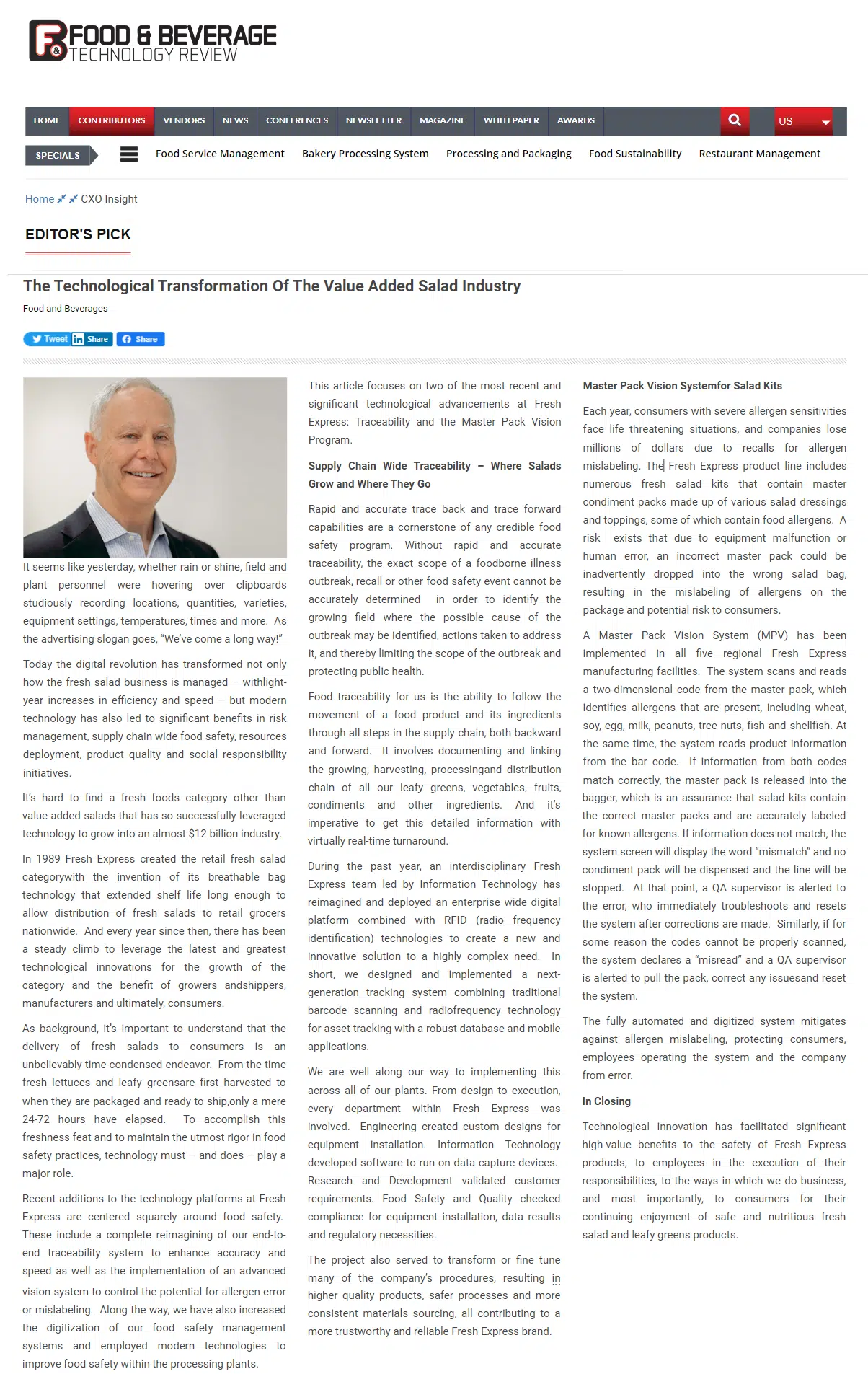 The Technological Transformation of the Value Added Salad Industry
By John Gurrisi, Vice President, Food Safety and Quality, Fresh Express
Quote: "Rapid and accurate trace back and trace forward capabilities are a cornerstone of any credible food safety program"
It seems like yesterday, whether rain or shine, field and plant personnel were hovering over clipboards studiously recording locations, quantities, varieties, equipment settings, temperatures, times and more. As the advertising slogan goes, "We've come a long way!"
Today the digital revolution has transformed not only how the fresh salad business is managed – withlight-year increases in efficiency and speed – but modern technology has also led to significant benefits in risk management, supply chain wide food safety, resources deployment, product quality and social responsibility initiatives.
It's hard to find a fresh foods category other than value-added salads that has so successfully leveraged technology to grow into an almost $12 billion industry.
In 1989 Fresh Express created the retail fresh salad categorywith the invention of its breathable bag technology that extended shelf life long enough to allow distribution of fresh salads to retail grocers nationwide. And every year since then, there has been a steady climb to leverage the latest and greatest technological innovations for the growth of the category and the benefit of growers andshippers, manufacturers and ultimately, consumers.
As background, it's important to understand that the delivery of fresh salads to consumers is an unbelievably time-condensed endeavor. From the time fresh lettuces and leafy greensare first harvested to when they are packaged and ready to ship,only a mere 24-72 hours have elapsed. To accomplish this freshness feat and to maintain the utmost rigor in food safety practices, technology must – and does – play a major role.
Recent additions to the technology platforms at Fresh Express are centered squarely around food safety. These include a complete reimagining of our end-to-end traceability system to enhance accuracy and speed as well as the implementation of an advanced vision system to control the potential for allergen error or mislabeling. Along the way, we have also increased the digitization of our food safety management systems and employed modern technologies to improve food safety within the processing plants.
This article focuses on two of the most recent and significant technological advancements at Fresh Express: Traceability and the Master Pack Vision Program.
Supply Chain Wide Traceability – Where Salads Grow and Where They Go
Rapid and accurate trace back and trace forward capabilities are a cornerstone of any credible food safety program. Without rapid and accurate traceability, the exact scope of a foodborne illness outbreak, recall or other food safety event cannot be accurately determined in order to identify the growing field where the possible cause of the outbreak may be identified, actions taken to address it, and thereby limiting the scope of the outbreak and protecting public health.
Food traceability for us is the ability to follow the movement of a food product and its ingredients through all steps in the supply chain, both backward and forward. It involves documenting and linking the growing, harvesting, processingand distribution chain of all our leafy greens, vegetables, fruits, condiments and other ingredients. And it's imperative to get this detailed information with virtually real-time turnaround.
During the past year, an interdisciplinary Fresh Express team led by Information Technology has reimagined and deployed an enterprise wide digital platform combined with RFID (radio frequency identification) technologies to create a new and innovative solution to a highly complex need. In short, we designed and implemented a next-generation tracking system combining traditional barcode scanning and radiofrequency technology for asset tracking with a robust database and mobile applications.
We are well along our way to implementing this across all of our plants. From design to execution, every department within Fresh Express was involved. Engineering created custom designs for equipment installation. Information Technology developed software to run on data capture devices. Research and Development validated customer requirements. Food Safety and Quality checked compliance for equipment installation, data results and regulatory necessities.
The project also served to transform or fine tune many of the company's procedures, resulting in higher quality products, safer processes and more consistent materials sourcing, all contributing to a more trustworthy and reliable Fresh Express brand.
Master Pack Vision Systemfor Salad Kits
Each year, consumers with severe allergen sensitivities face life threatening situations, and companies lose millions of dollars due to recalls for allergen mislabeling. The Fresh Express product line includes numerous fresh salad kits that contain master condiment packs made up of various salad dressings and toppings, some of which contain food allergens. A risk exists that due to equipment malfunction or human error, an incorrect master pack could be inadvertently dropped into the wrong salad bag, resulting in the mislabeling of allergens on the package and potential risk to consumers.
A Master Pack Vision System (MPV) has been implemented in all five regional Fresh Express manufacturing facilities. The system scans and reads a two-dimensional code from the master pack, which identifies allergens that are present, including wheat, soy, egg, milk, peanuts, tree nuts, fish and shellfish. At the same time, the system reads product information from the bar code. If information from both codes match correctly, the master pack is released into the bagger, which is an assurance that salad kits contain the correct master packs and are accurately labeled for known allergens. If information does not match, the system screen will display the word "mismatch" and no condiment pack will be dispensed and the line will be stopped. At that point, a QA supervisor is alerted to the error, who immediately troubleshoots and resets the system after corrections are made. Similarly, if for some reason the codes cannot be properly scanned, the system declares a "misread" and a QA supervisor is alerted to pull the pack, correct any issuesand reset the system.
The fully automated and digitized system mitigates against allergen mislabeling, protecting consumers, employees operating the system and the company from error.
In Closing
Technological innovation has facilitated significant high-value benefits to the safety of Fresh Express products, to employees in the execution of their responsibilities, to the ways in which we do business, and most importantly, to consumers for their continuing enjoyment of safe and nutritious fresh salad and leafy greens products.
Join the Fresh Rewards Club
Can't get enough of our delicious salads and recipes? Join our Fresh
Rewards Club to receive our e-newsletter, recipe tips, special savings,
an annual birthday treat and so much more. Its FREE to join so sign
up today!