Fresh Express Celebrates Innovation During National Salad Month 
Annual #FreshSaladCreations Contest Inspires Consumers to Create New Salads Every Day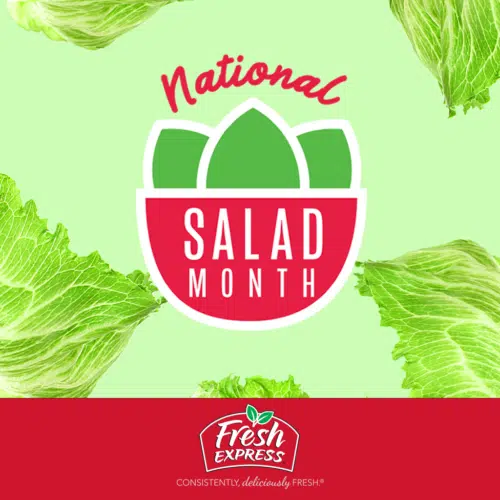 Orlando, Florida (May 2, 2022) – Fresh Express®, the brand leader in value added salads, is celebrating its commitment to innovation this National Salad Month. From a best-in-class field-to-fork process to industry leadership in product and flavor development, innovation at Fresh Express never rests, ensuring the brand can create delicious products that help people eat more salads and lead healthier lives. As part of the National Salad Month celebration, Fresh Express is bringing more consumers into the innovation process through its annual online and social contest that provides salad inspiration and encourages consumers to create a new salad recipe every day.
Fresh Express offers more than 100 varieties of fresh and healthy salads ranging from leafy salad greens like romaine and Butter Supreme to premium, chef-crafted salad kits, such as the Mexican Style Chopped Salad Kit and Twisted Caesar Pesto Caesar Chopped Salad Kit, and more than 330 online recipes, making it easy for consumers to find, review and enjoy delicious, nutritious and convenient salads every day.
Every day this month, Fresh Express will share unique salad recipes, such as a Pesto Pasta Salad recipe, on its social channels and encourage consumers to submit a photo of their salad creations with the hashtag #FreshSaladCreations for a chance to win one of many prizes, including a new grill, aprons, Fresh Express product and more. Consumers can also visit the Fresh Express website to download a free e-book featuring 10 recipes, including a Moroccan Roasted Vegetable Salad and Italian Antipasto Caesar Salad.
"We always look forward to National Salad Month because the #FreshSaladCreations contest is a favorite for the brand team and consumers alike," said Robin Bell, Marketing Manager at Fresh Express. "We love providing daily mealtime inspiration through recipes that showcase the versatility of our salad greens and kits and it's fun to see how inventive consumers can be while using our fresh ingredients to create unique, tasty dishes at home."
At the end of May, Fresh Express will select three grand prize winners to receive more than $1,000 in prizing, including a portable propane gas grill, Fresh Express product and other swag. Fresh Express will also award more than 90 runner up prizes, as well as weekly and daily winners throughout the month, all totaling over $25,000.
"Since our company's founding in 1976, innovation has always been core to the Fresh Express DNA," continued Bell. "We can think of no better way to recognize National Salad Month than by celebrating that spirit of innovation through a social promotion designed to spark fresh, creative thinking around meal inspiration."
In addition to the #FreshSaladCreations online and social contest, Fresh Express' commitment to innovation will also be highlighted in an upcoming episode of Food Quest, hosted by Mario and Courtney Lopez, airing in May.
Fresh Express salad blends and kits are available in the refrigerated produce department at your favorite grocery store, with a suggested retail price of $3.99. Learn more about Fresh Express at www.freshexpress.com.
About Fresh Express®
Fresh Express®is the brand leader in Value Added Salads and is dedicated to providing consumers with healthy, convenient ready-to-eat salads, leafy greens, vegetables and fruits. With the invention of its special Keep Crisp® bag in the 1980s, Fresh Express pioneered the retail packaged salad category and was the first to make them available to grocery stores nationwide. Today, Fresh Express fresh salads come in more than 100 different varieties offering exciting new flavors and convenient new ways to meet the daily dietary requirements for both conventional and organic fresh produce. More than 14 million consumers each week enjoy healthy, convenient ready-to-eat Fresh Express salads, spinach and vegetables. For more information, visit www.FreshExpress.com.
Join the Fresh Rewards Club
Can't get enough of our delicious salads and recipes? Join our Fresh
Rewards Club to receive our e-newsletter, recipe tips, special savings,
an annual birthday treat and so much more. Its FREE to join so sign
up today!