Little Bites. Big Love.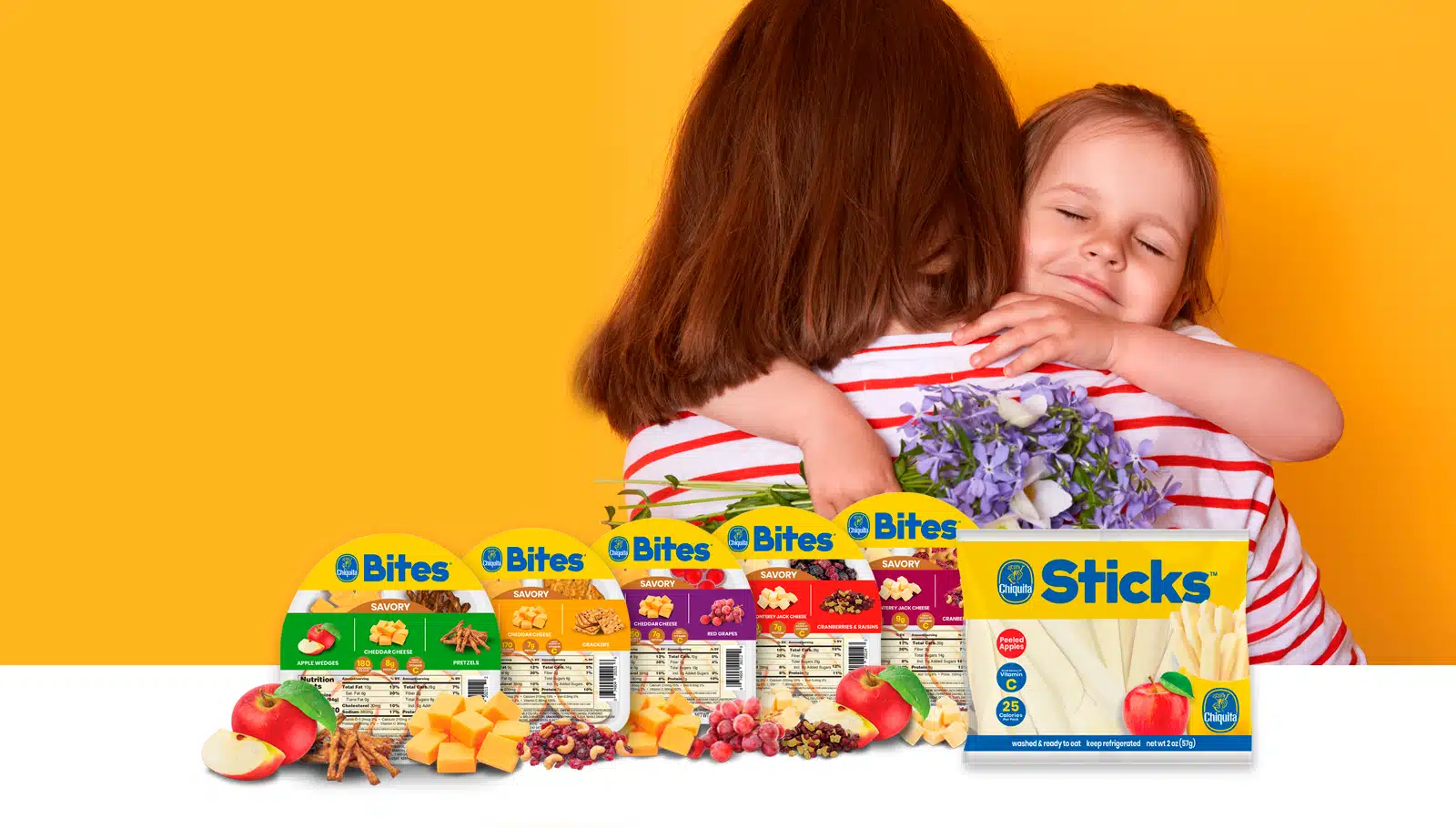 Fresh Express and Chiquita have teamed up to bring you and your family nourishing snacks in bite-sized form! These snacks include fruit, cheese, nuts, crunchy goodies and more to satisfy you and make you smile. Take a bite out of hunger with a healthy snack that's perfect for your anytime.
Apple Wedges, Cheddar Cheese and Pretzels
The perfect mixture of salty and sweet can be found in our savory on the go snack pack! Featuring fresh apple wedges, yummy Cheddar cheese, and crunchy pretzels, this pack is perfect for a pre-soccer fuel up or a post-dance rehearsal cool down. Featuring 8g of protein and a boost of vitamin C, this is a snack you can feel good about giving to your whole family.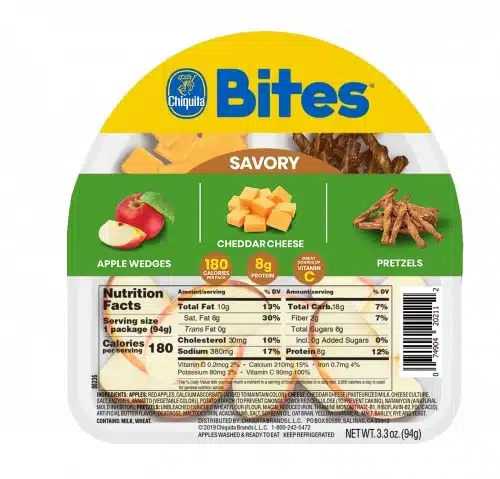 APPLE WEDGES, CHEDDAR CHEESE AND CRACKERS
Snack time just got a little healthier with savory "Bites" from Chiquita. This protein-packed snack features perfectly portioned apples, Cheddar cheese, and sea salt, multi-grain crackers to keep you satisfied until lunchtime, guilt-free!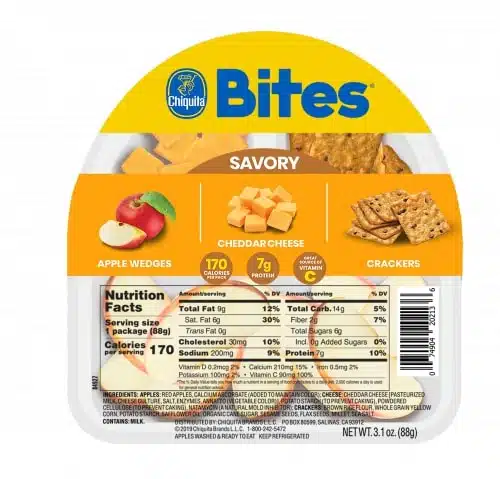 APPLE WEDGES, MONTEREY JACK AND CRANBERRIES & CASHEWS
Perfectly portioned and delicious, these savory snacks are made for those who are always on the go but don't want to sacrifice nutrition. Sweet apple wedges pair with zesty Monterey Jack cheese bites, tart cranberries and salty cashews for a nourishing snack that stops hunger in its tracks.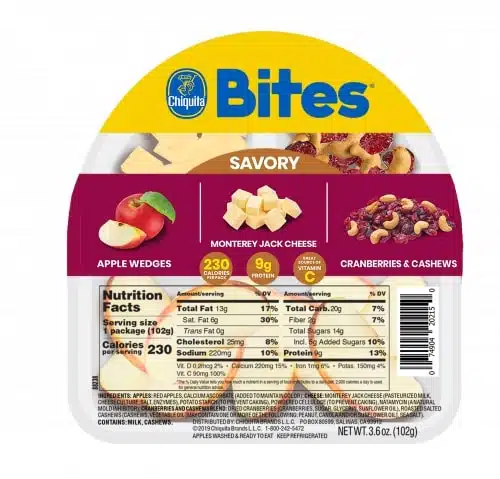 APPLE WEDGES, MONTEREY JACK AND CRANBERRIES & RAISINS
On the go doesn't have to mean unhealthy. Our convenient snack packs are an easy way to snack healthy without sacrificing flavor. Featuring yummy cranberries, raisins, apple wedges, and Monterey Jack cheese, this fresh snack will help you fuel your day!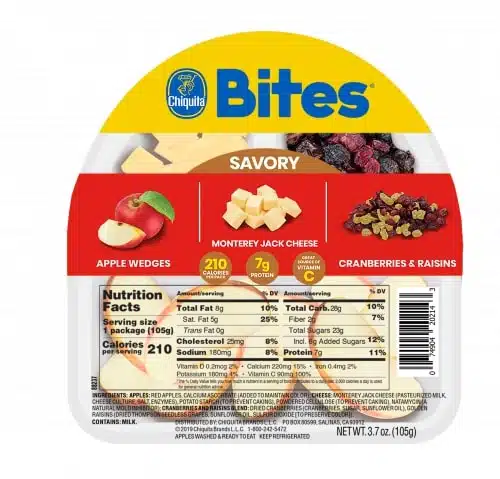 APPLE WEDGES, CHEDDAR CHEESE AND RED GRAPES
Keep rumbly tummies at bay with savory "Bites" from Chiquita. These convenient snack packs are loaded with healthy vitamins and nutrients; we promise not to tell the kids! Your little ones will love to eat the fresh apples, juicy grapes, and Cheddar cheese squares during homework time, color time and beyond.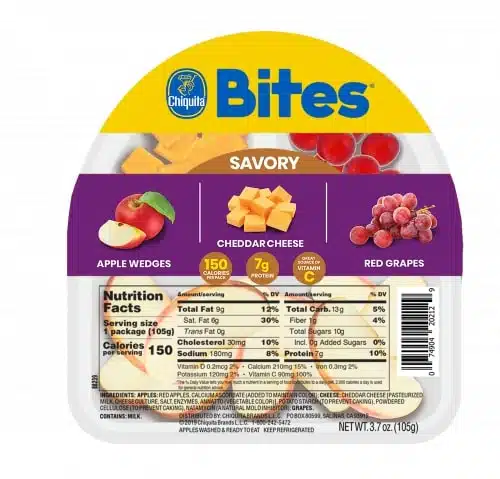 NEW CHIQUITA STICKS
Keep snack time healthy and delicious with Chiquita Sticks! Our freshly picked apples are peeled and sliced for easy snacking, without the mess. Bursting with vitamin C and heart-healthy fiber, this low-calorie treat is sure to please apple lovers big and small. Grab a pack today to pop in your lunch bag or keep in the fridge for anytime hunger strikes.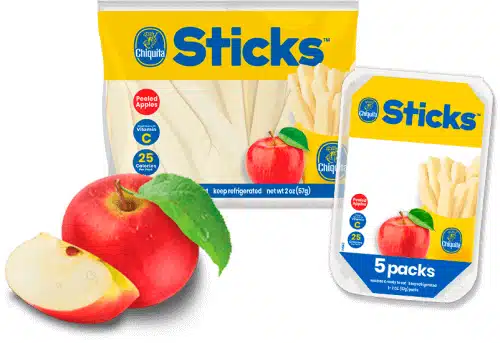 Join the Fresh Rewards Club
Can't get enough of our delicious salads and recipes? Join our Fresh
Rewards Club to receive our e-newsletter, recipe tips, special savings,
an annual birthday treat and so much more. Its FREE to join so sign
up today!