Brookshire Brothers – Celebrate At Home magazine feature.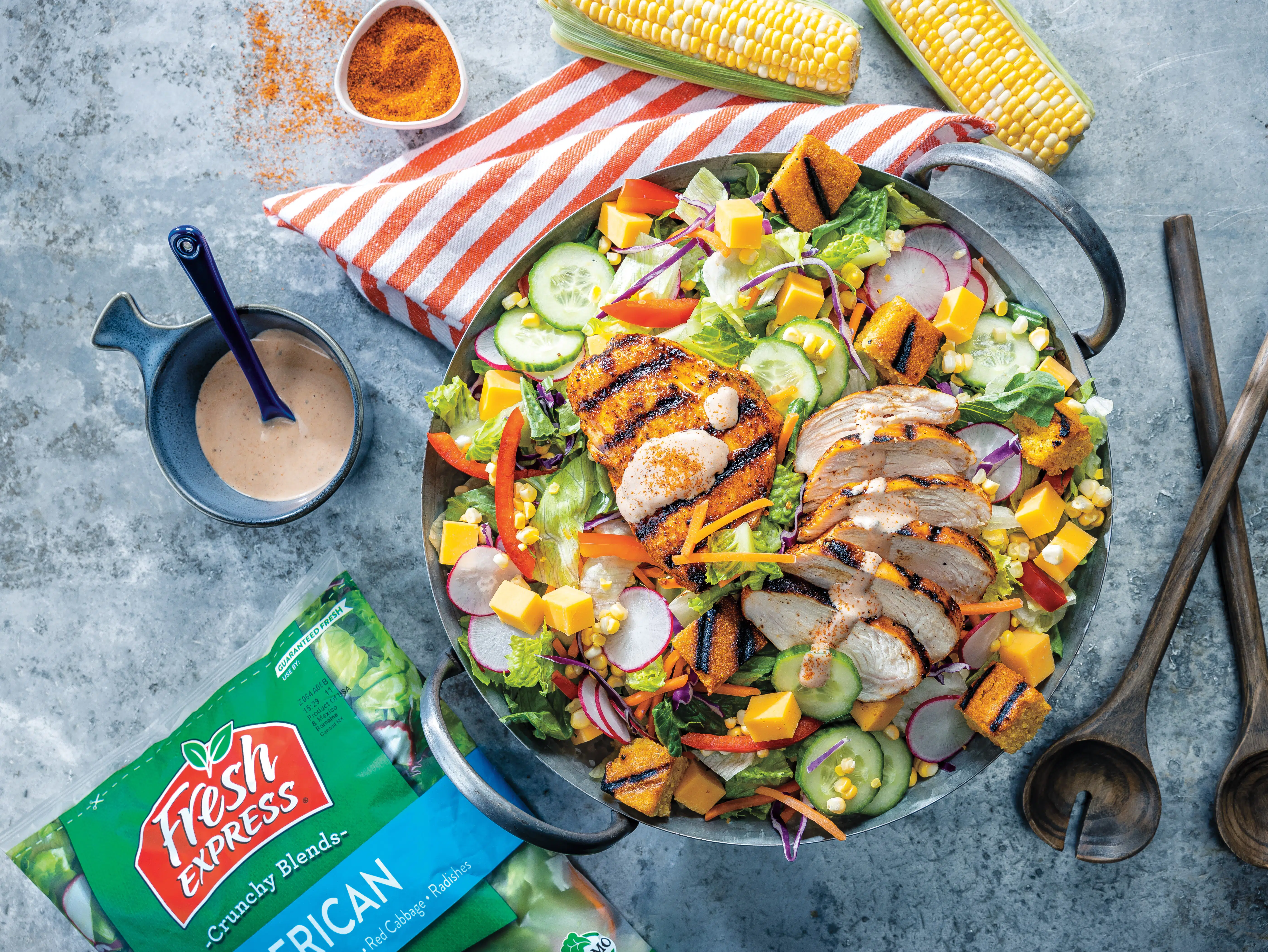 Hungry for a delicious meal that entire family will enjoy? You'll love our Grilled BBQ Chicken Americana salad, featured in the Celebrate At Home Magazine, by Brookshire Brothers.
Made with Fresh Express ® American Salad Mix and served with freshly grilled chicken and cornbread, this delightful salad will instantly bring adventure feeling to your table.
Grilled BBQ Chicken Americana Salad
Prep: 15 minutes
Grill: 10 minutes
Serves: 6
1/2 cup ranch dressing
1 tablespoon barbeque sauce
1-1/4 pounds boneless, skinless chicken breasts
1 tablespoon barbeque seasoning
1/2 (16-ounce) package cornbread, cut into 3 x 1-inch pieces
Nonstick cooking spray
2 packages (11 ounces each) Fresh Express® American Salad Mix
2 ears fresh sweet corn, husks and silks removed, kernels cut from cobs (about 1-1/4 cups)
1 medium red bell pepper, thinly sliced
1/2 medium English cucumber, thinly sliced
1 cup cubed Cheddar cheese
1 cup shredded carrots
1/4 cup sliced radishes
1. Prepare outdoor grill for direct grilling over medium-high heat. In small bowl, whisk dressing and barbeque sauce. Makes about 1/2 cup.
2. Sprinkle chicken with seasoning and spray cornbread with cooking spray; place on hot grill rack. Cover and cook chicken 10 minutes or until internal temperature reaches 165°, turning once; cook cornbread 4 minutes or until grill marks appear, turning once. Let chicken stand 5 minutes; cut into 1/2-inch slices. Coarsely chop cornbread.
3. In large bowl, toss salad mix, corn, pepper, cucumber, cheese, carrots and radishes; top with chicken and cornbread. Serve salad drizzled with dressing mixture. Makes about 14 cups.
Approximate nutrition values per serving: 412 Calories, 16g Fat, 3g Saturated Fat, 76mg Cholesterol, 1113mg Sodium, 35g Carbohydrates, 3g Fiber, 14g Sugars, 1g Added Sugars, 27g Protein
Join the Fresh Rewards Club
Can't get enough of our delicious salads and recipes? Join our Fresh
Rewards Club to receive our e-newsletter, recipe tips, special savings,
an annual birthday treat and so much more. Its FREE to join so sign
up today!