Oven Baked Beef Sliders with BBQ Sriracha Slaw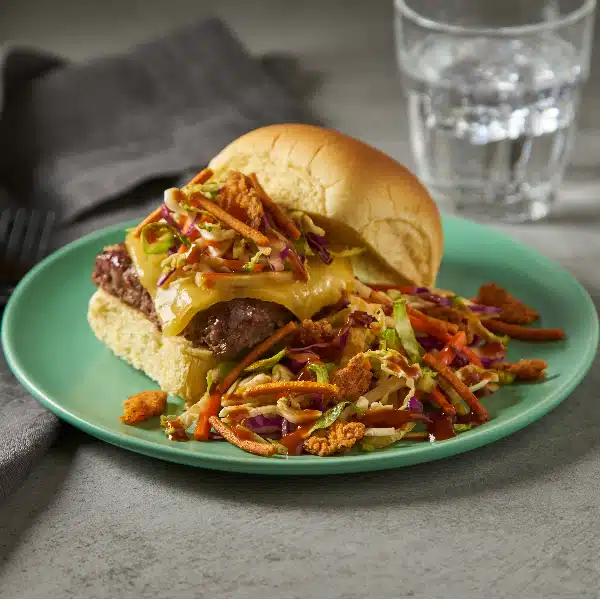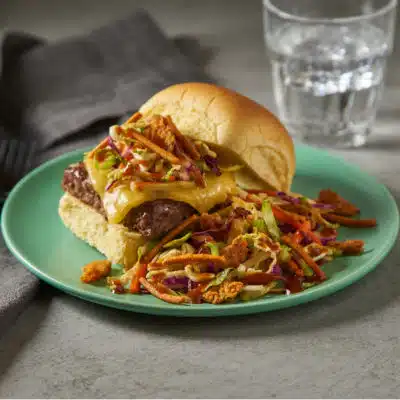 Oven Baked Beef Sliders with BBQ Sriracha Slaw
Ingredients
3

packages

Fresh Express® Smoked BBQ Sriracha Premium Slaw Salad Kits®

(11.1-ounce)

1/2

cup

yellow onion

diced

1

large egg

beaten

1/4

cup

plain breadcrumbs

1

tablespoon

Worcestershire sauce

2

teaspoons

chili powder

1

teaspoon

salt

2

pounds

ground beef

Freshly ground black pepper

6

slices

smoked Gouda cheese

cut in half

12

small dinner rolls

cut in half
Instructions
Mix the onion, egg, breadcrumbs, Worcestershire sauce, chili powder, and salt in a large bowl. Add the ground beef; mix well. Transfer to a 9×13-inch baking pan, pressing it into a flat layer with your hands. Season with a few grinds of fresh pepper. Cut the meat into 12 squares.

Bake at 400° F for 10 to 15 minutes or until browned on top and slightly pink in the center. Arrange the cheese on top of the patties; return to the oven and bake for 1 minute or until cheese is melted. Let rest a few minutes, then recut to separate the patties.
To Make the Smoked BBQ Sriracha Slaw:
Place the Fresh Express® Smoked BBQ Sriracha Premium Slaw Salad Kits® into a large bowl; toss with salad dressing and toppings.
To Assemble:
Place each patty on the bottom bun; top with Smoked BBQ Sriracha Slaw and top of bun. Serve with additional Smoked BBQ Sriracha Slaw on the side.