Under the Sea Apple Snacks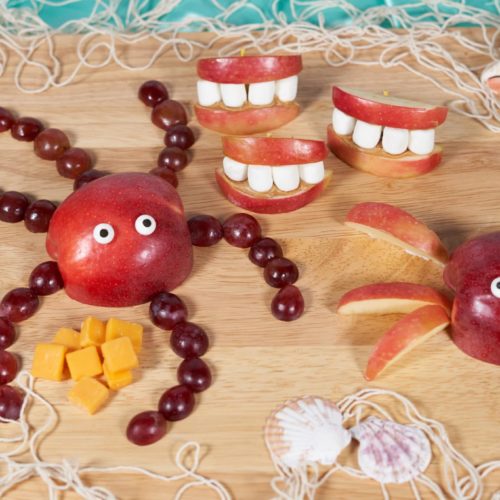 Under the Sea Apple Snacks
These afternoon snacks made with apple slices and marshmallows are super easy to put together.
Instructions
To make the Teeth:
Spread a little bit of peanut butter onto two Chiquita Bites® Juicy Red Apple slices. Top one apple slice with four marshmallows; place the other apple slice on top, peanut butter side down. Repeat process to make as many as you need.

Note: secure with a toothpick if needed.
To make the Octopus:
Place two edible eyes on one of the apple halves to make the face. Remove the grapes from the Chiquita Bites®: Apple Wedges, Cheddar Cheese and Red Grapes; cut in half. Arrange about five grape halves to make five tentacles.
To make the Crab:
Place two edible eyes on the other apple half to make the face; arrange three apple slices to make the claws.