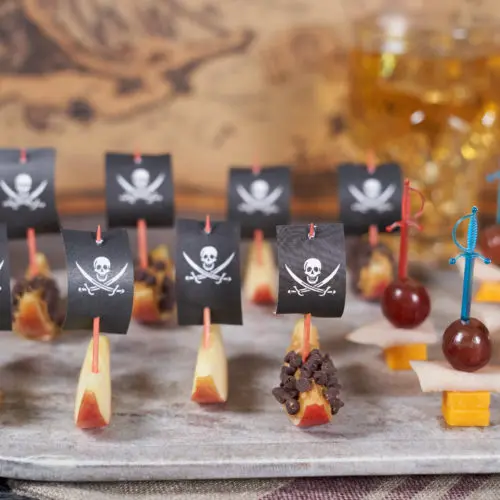 Pirate Snacks
Have some fun with kids making these timeless classic Pirate Ship Apples and fun Pirate Apple Sword Kabobs to defend your treasures. 
Instructions
To make the Pirate Sword Kebobs:
Layer two pieces of cheese, a small slice of turkey and one grape; secure with a sword toothpick. Repeat process for as many as you want to serve.
To make the Pirate Ship Apples:
Find a skull image and print on a black background to make the sails. Attach to apple slices with a toothpick. To sweeten apple slices, spread with peanut butter and sprinkle with mini chocolate chips.
Notes
Serve Pirate's Grog apple juice in skeleton mugs.