Chiquita Bites® Charcuterie Board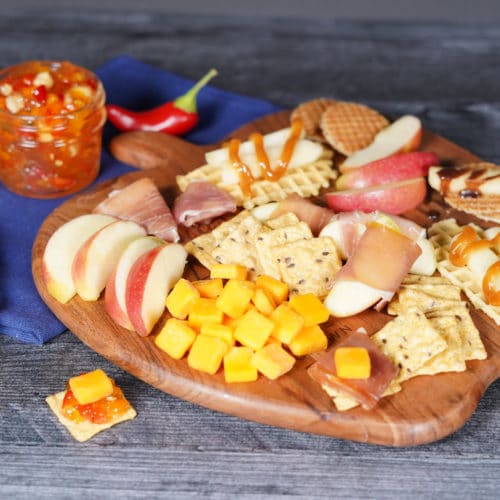 Chiquita Bites® Charcuterie Board
This Chiquita Bites® Charcuterie Board is fit for any occasion.
Ingredients
Apple Hot Pepper Jelly Ingredients (makes 5 cups):
3

(2-ounce). packages

Chiquita® Sticks™

(about 1-1/2 cups)

1

quart

peppers:

2 large red bell pepper,

cored, chopped fine

2 large yellow bell pepper,

cored, chopped fine

2 large jalapeños, cored, chopped fine

(use the seeds if you like it spicy)

3

cups

sugar

1

(1.75 ounce) package

No Sugar Sure-Jell Fruit Pectin

1/2

cup

apple cider vinegar

1/2

cup

water
Instructions
To assemble an Apple Charcuterie Board:

Arrange the products from the Chiquita Bites®: Apple Wedges, Cheddar Cheese and Crackers on a wooden board. Wrap apple slices with prosciutto. Top mini Stroopwafels and pizzelle cookies with apple sticks; drizzle with caramel or chocolate sauce. Serve with Apple Hot Pepper jelly.
Instructions to make Apple Hot Pepper Jelly:
Sterilize five (8-ounce) canning jars, or whatever size you have on hand.

Put the apples and peppers into a large saucepan. In a small bowl, combine 1/2 cup sugar with the Sure-Jell. Stir this mixture into the apples and peppers. Cook over medium-high heat until mixture comes to a boil. Cook and stir for 5 minutes. 

Add the vinegar, water and remaining sugar. Return to a rolling boil; boil for about 1 minute. Remove from heat.

Ladle the hot jam immediately into the hot, sterilized jars. Cover with sterilized lids and screw on the band. Do a water bath if you like, according to the instructions on the Sure-Jell package.

Flip the jars upside down and let sit until cool, then flip them back upright. Leave the lids on for 24 hours. If any of the jars do not seal, store them in the refrigerator and use within two months; otherwise, store in a cool, dark cupboard and use within six months.