Pork Tenderloin with Apples and Honey Pecan Slaw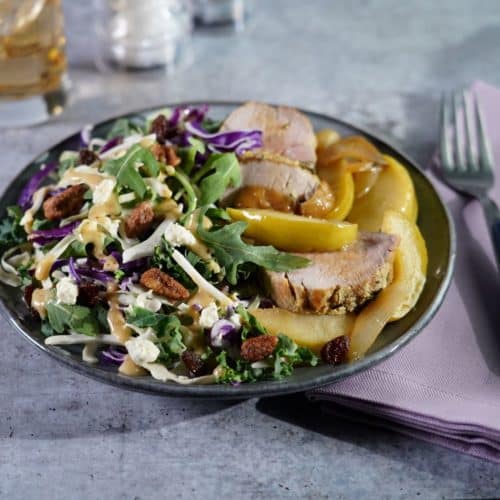 Pork Tenderloin with Apples and Honey Pecan Slaw
Chiquita Bites®: Juicy Green Apples and Fresh Express® Honey Pecan Premium Slaw Salad Kit® create a winning combination with pork tenderloin. 
Instructions
Sprinkle pork tenderloin with salt. Cook in 2 tablespoons oil in a large oven-proof skillet over medium-high heat for 6-8 minutes or until brown on all sides. Transfer pork to a plate.

Add remaining oil to the drippings in the skillet; cook apples and onions for 5 minutes or until tender; add additional oil if necessary.

Meanwhile, spread mustard over the pork; sprinkle with 1 teaspoon thyme. Sprinkle remaining thyme and black pepper over apple mixture; mix well. Place the pork in the skillet with the apples and onions. Bake for 20 to 25 minutes, or until an instant read thermometer inserted in the thickest part of the meat reads between 145°F and 160°F. Transfer pork to a plate; cover with aluminum foil and let rest for 10 minutes. Slice into 1-inch thick pieces.

Add chicken stock to skillet; cook and stir over medium heat for 5 minutes or until broth is reduced by half. Melt butter in broth; add sliced pork and heat through.
To make the Honey Pecan Slaw:
Place the Fresh Express® Honey Pecan Premium Slaw Salad Kits® into a large bowl; toss with salad dressing. Add the toppings; toss to combine.
To Assemble:
Divide pork with apples and onions evenly among four plates. Serve with Honey Pecan slaw.