Grilled Shrimp and Honey Pecan Slaw Bowl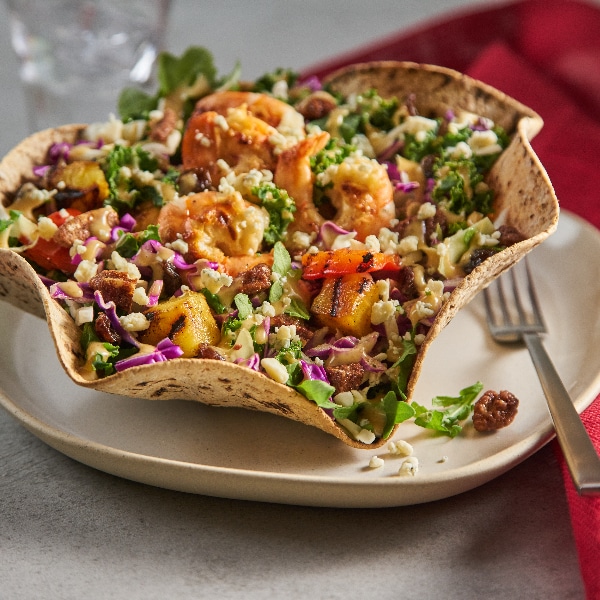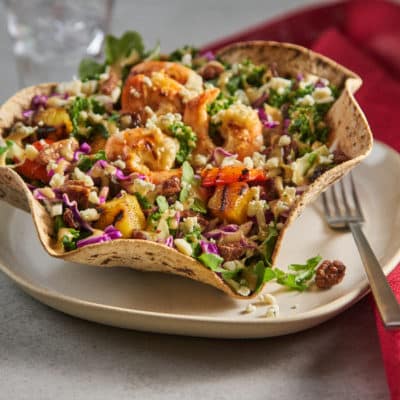 Grilled Shrimp and Honey Pecan Slaw Bowl
Ingredients
2 packages Fresh Express® Honey Pecan Premium Slaw Salad Kits®

(10-ounce)

4

Flatout Light flatbreads

(any flavor)

12

ounces

large shrimp

peeled and deveined

2

tablespoons

olive oil

2

tablespoons

lemon juice

1-1/2

cups

fresh pineapple chunks

1

cup

red bell pepper

cut into 1-inch pieces

Wooden or metal skewers
Instructions
To make the flatbread bowls:
Heat oven to 350° F. Place four ceramic or oven-safe 5-ounce bowls upside down on a baking sheet; coat bottom of bowls with cooking spray. Arrange one flatbread evenly over each bowl. Bake for 5 to 10 minutes or until lightly browned and flatbread is hard. Let cool before removing from the bowls. Can make ahead of time and store at room temperature.

Soak wooden skewers in water for 15 minutes. Heat an outdoor or indoor grill to high heat; oil the grill grate with cooking spray.

Place the shrimp into a large bowl; drizzle with olive oil and lemon juice. Thread shrimp onto skewers. Grill for 2 to 3 minutes a side or until they are pink.

Thread red pepper in between pineapple chunks onto skewers. Grill for 3 to 4 minutes per side or until seared; cool slightly.
To Make the Honey Pecan Slaw:
Place the Fresh Express® Honey Pecan Premium Slaw Salad Kits® into a large bowl; toss with salad dressing and toppings.
To Assemble:
Divide salad evenly into the bottom of each flatbread bowl. Top with grilled shrimp, pineapple and red pepper.
Notes
Chef's Tip: You can also cook shrimp and vegetables in a grill pan or in the oven on a baking sheet.